Fifteen years have passed since The IP Company proudly equipped for the Royal dutch navy the first Patrol ship Zr MS Holland with our innovative wireless communication system.
As we reflect on this remarkable milestone, we were happy to celebrate with our dedicated Marine team, who have been invaluable partners on this transformative journey. What better way to commemorate our longstanding collaboration than with an unforgettable dinner at an exclusive venue next to #damen-shipyards in beautiful Amsterdam?
Cast your mind back to early 2007 when the Navy's innovation team approached us, seeking our expertise in developing a communication system for on-board naval vessels. Their goal was to enhance crew efficiency and flexibility while reducing the need for personnel to continuously monitor systems from fixed positions, 24 hours a day. The objective was clear: enabling the ship to safely carry out its missions with a 50% reduction in personnel.
Innovation took flight, and an ingenious idea emerged: replacing the numerous fixed voice terminals scattered throughout the ship with cutting-edge wireless smartphones.This ingenious solution allowed crew members to receive real-time messages from various onboard systems, regardless of their location or the time of day. Whether it was the platform management system, combat management system, radar images, or more, crew members could access critical information anytime, anywhere directly on their smartphones.
Now, you must understand that in 2007, ruggedized smartphones with an Android operating system were not yet available. TheIPCompany embarked on an extensive search and  found a manufacturer willing to share their source code for a suitable smartphone with Windows. With their support, we successfully transitioned the Windows drivers to our own Linux drivers, powered by the Android operating system.
Fast forward 15 years, and our smartphones have become an indispensable tool for every crew member. The benefits they experience are truly remarkable. Reduced reliance on the public address system means seamless communication, while liberating them from fixed screens allows for greater mobility. Each crew member now receives messages tailored to their position and role, all delivered to their personal smartphones. This transformation has truly revolutionized onboard operations.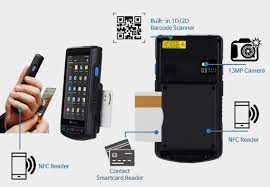 Now, after 15 years, our smartphones have become an indispensable tool for every crew member. They can no longer imagine working without them. The benefits experienced by the crew are extraordinary. The announcement system is used less frequently, as messages are seamlessly delivered directly to their smartphones. Crew members are no longer confined to fixed positions behind screens; instead, they have the freedom to move around while receiving important updates tailored to their positions and roles. This transformation has revolutionized onboard operations.
In critical damage control situations, our system integrates seamlessly with a special application linked to #EID's conference system. This integration enhances situational awareness and accessibility for everyone involved. But that's not all. By the end of this year, as we replace all existing smartphones with the fourth generation of Android devices, we increase the security and will introduce a chat application.
We lik eto thank to the Dutch Navy for their unconditional trust in The IP Company. It has been an incredible 15-year journey, and we eagerly anticipate the next 15 years of collaboration. Together, we will continue to push the boundaries of innovation, empower naval crews worldwide, and shape the future of maritime communication.