GSM Gateway
The GSM Gateway is accessible via the web GUI, available when using the correct IP address and after the correct configuration is applied to the Ethernet switches. A user is able to replace the SIM cards located in the device. This requires access to the GSM gateway enclosure that is located in the mast. The top of the GSM Gateway contains four slots for SIM cards and allows different operator cards to be used. After placement of the SIM cards, a system operator then selects the preferred route of operation.
The GSM gateway provides a connection to terrestrial GSM providers. These signals consist of frequencies ranging in the GSM band and can be received from approximately 10 km off the coast. The Gateway contains a SIM card that can be swapped for any other compatible SIM card, to connect with the commercial telecommunication providers.
The GSM Gateway converts the VoIP traffic to RF signals and provides it to the Integrated Communication Architecture System (ICAS), in order to have them transmitted via the antenna. Contrariwise, the ICAS provides the received data to the GSM Gateway which offers the data to the WCMS Core Equipment so it can be transported further in the system.
When signal reception is sufficient, users can dial an access code that enables them to dial a phone number via the GSM Gateway. This assumes that users have the correct access rights to do so. In addition to voice calls, the device can also be used to send SMS, Fax, Voicemail, or E-mails via SMS. These features are configurable via the management interface available for the device.
During EMCON or specific ship states that prohibit communications and signal transmissions outside the ship, the GSM Gateway can be disabled via the remote power control NETIO230. This particular device shuts down the power supply to the GSM Gateway via commands that can be send via the ethernet network. The commands and the devices' GUI can be reached by the System Administrator via the web management interface.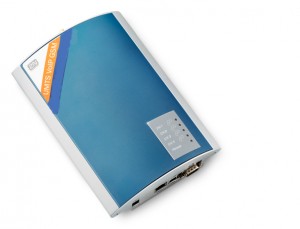 Media Gateway
The Media Gateway plays a central role in enabling interfaces between internal and external systems. It provides interfaces to ICCS , STE, INMARSAT, Iridium and the Analogue Telephone by converting the VoIP Ethernet information to different standards such as ISDN. The device is configured to cope with the ISDN signal for interfacing with ICCS 5. Other interfaces include FXO type interfaces to Inmarsat and Iridium, while FXS interfaces are used for the Secure Fax (Tiger office), the analogue phone in the elevator and other STE equipment.
Secure Telephony and Fax Equipment (STE) are analogue based phones and faxes with a built in cryptographic device. The secure telephone and fax provides voice and data security via PSTN. By default, a telephone does not contain encryption and is therefore neither classified nor restricted. By sliding a particular crypto card into the phone and using the PIN code, the device is ready to use to call. The Media Gateway interfaces via FXS with STE.