Whats'UP is a Warning, Host, Alert, Task and support damage control system. The Whats'UP system is a tool designed to manage and protect various operational functions. It monitors, processes, and evaluates the effects of these functions, identifying any that are experiencing issues. By using predetermined scenarios, Whats'UP efficiently assigns tasks, sends alerts, and issues warnings. It also communicates with relevant staff members. This system ensures business continuity after a disaster by using an automatic backup process for fail-over systems.
Impact scenarios
Impact scenarios form the basis of the What'UP messaging procedural recovery plans and damage reporting. What'UP stores automatic damage reporting procedures and disturbances in small disaster follow-up procedures (workflow). Small scale problems are  parental owners to large disasters.
A typical impact scenario like a (small) fire will most likely encompass some critical operational functions, resulting in the worst potential outcome from such a potential threat. Damage control and procedures to attack such disturbances are critical to ensure proper business operations. What'UP's extensive inter-operability ensures the communication between different operational systems. The secure fault tolerant and resilient, fail-over operation of What'UP ensures that operational systems are kept up to date to counter any disturbance and/or emergency.

WCMS PBX Application
The WCMS system is built on a Linux operating system using open source Asterisk software. Asterisk is a feature rich telecommunications platform (PBX), which serves as the basis for an enterprise-grade IP PBX. This platform provides tested reliability of critical functions and features and can be tailored for specific applications. The WCMS system builds on this platform to add naval functions.
Fortinet Wireless Network
Leveraging Fortinet equipment and software, our wireless network comprises a Firewall, Core fiber switches, and access switches. The WCMS system includes a Virtual Controller and Access Points to establish a virtualized wireless LAN, providing a smooth connection for handhelds and other wireless hardware. The Fortinet virtual controller manages Access Points so that handheld devices connect to only one virtual Mac address, enabling seamless transitions between fixed Access Points without affecting ongoing connections. This feature is particularly beneficial for streaming applications like phone conversations. 
Specifications
Fortinet is supporting the WiFi Standards 802.11g, 802.11n, 802.11ac, 802.11 ax, 802.11K, and 802.11r The basic function of the Fortinet controller is a single point of configuration for the entire wireless network. The Access Points are controlled and configured by the Fortinet Controller. During the session lifetime of a wireless device, the Fortinet controller will define upon which Access Point the session will exist.  
The virtual machines come on an external hard drive. After installation the configuration can be imported into the system. The Fortinet Controller is the heart of the WCMS system and controls every connection to a wireless device on the Ship. The Fortinet Network solution utilises virtualisation technology to create an intelligent and self-monitoring wireless network. Where normal handover or roaming occurs with wireless communication, the Fortinet Controller defines when a device is transferred from one Access Point to another without the need for handover or roaming. The Fortinet Controller executes load balancing. For example: five users are connected to one Access Point and four users are busy on a phone conversation. If user number five then starts a phone call, the Fortinet Controller can move two users to another Access Point.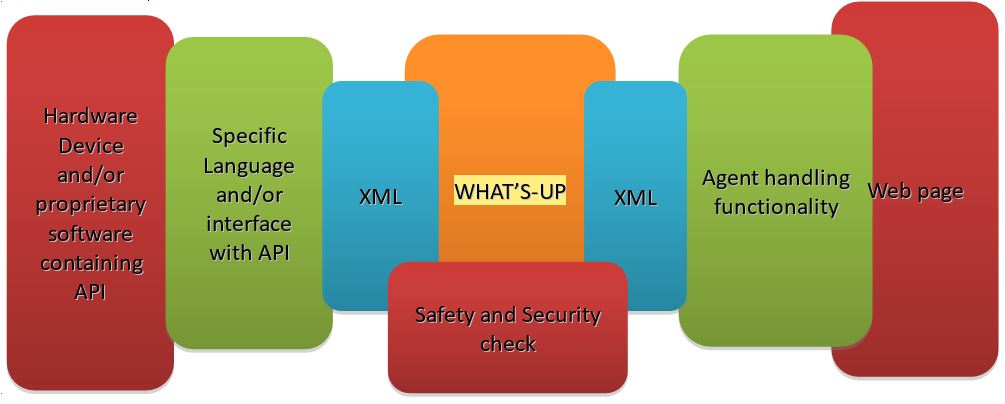 Wi-Fi
The Fortinet Network provides single channel Wi-Fi architecture. This means that all Access Points (AP) are on the same channel, making Radio Frequency configuration and management easier. Furthermore, since one 'network' resides on one channel, you can actually layer multiple channels or networks to improve throughput and capacity, as well as separate applications and/or users on different physical networks/channels. By using this logic the Fortinet Controller defines when a device is transferred to another AP and not the client, because the client 'thinks' that there is only one AP. Since the client only sees one big access point, it will never be triggered to roam. The roaming decision is no longer taken by one component in the network, but by the controller which has the complete overview of the network. Roaming decisions are thus based upon AP load, AP throughput, number of clients, client signal strength, packet error and packet retries. The roaming itself happens in less than 2.5ms, regardless of the type of (VPN tunnel) security used. This means that it is seamless for the client and guarantees overall seamless use over the network of voice, streaming video and real-time data.
Redundancy
There are two Fortinet Controllers necessary for redundancy and both are hosted in the network. The Fortinet Controllers will failover if one Fortinet Controller goes offline or is unusable, ensuring uninterrupted service. The rest of the Fortinet Controller equipment consists of access points.
Security
The Wireless Communication System is implemented with Wireless Access Points granting access to users the RADIUS protocol (remote user authentication and accounting). A separate virtual port is created for each device on the network. From a system administrator perspective, the Fortinet Controller is configurable from a single point. Instead of configuring all devices all over the Ship, one configuration is created and all devices are attached to that configuration. The Fortinet Controller uses the data link Layer 2 to communicate with the devices. No IP addresses are used in this protocol and the Fortinet AP will sign up with every Fortinet Controller they find in the network. The Fortinet Controller will apply RADIUS based MAC filtering, whereby device MAC addresses are set up and managed by a remote RADIUS Server. When a new device attempts to join the network, the Fortinet Controller queries the RADIUS server with the MAC address to determine whether the client is permitted or not.
Fault Tolerant
Conferencing
Push To Talk
ACD / IVR
Office telephony
Scalable
Voice recognition
Extensive Messaging
Ruggedized
Resilient
Radio Silence enabled
Failover
Secure login
Automatic clean
Backup / restore
Easy roll-out
Online management
Secure Warning and Alert Messaging
Task Workflow and escalation
High Available and Failover
Scalable, interoperable secure interfacing with other systems*
Secure Monitoring and recording
Disaster and business continuity
RF Barrier (Shielded Secure Environment)*
Radio Silence Enabled
Device "white list" Enabled
Secure Data Protection Enabled*
Online Device Properties management
Whatsúp messaging 
The What's-up messaging and communication platform enables full capabilities on telephone conversations like peer-to-peer dialing, name dialing, number dialing, conference calls, queues, ACD/IVR menu's, outside dialing through GSM, Inmarsat, Iridium, HF channels, wall connections. Push To Talk is supported on every channel. Messaging – for example warnings and alerts based on functions, named users, qualifications and groups with ad hoc voice communication – gives the users of the system a quick win in communication while attending emergency situations or stressful operational tasks. Enabling ad hoc information retrieval from internal information systems connected to the system as an intranet with technical information or procedural information attending to an emergency / operational request. Tasks are added to the communication on the job, ensuring proper handling and a To-do list while attending to the day-to-day operations. The What's-up (Warning, Host, Alert, Task, Support) system makes it possible to attend every situation with the right procedure and the skill, materials and requirements needed to attend to such diverse job circumstances. Enabling better results, higher quality and less costs with less crew members. The What's-up management interface enables easy maintenance of the system and lower costs of ownership. 
Industry standard solution with secure Wi-Fi transmission between devices. Handheld devices can be based on Windows Mobile and Google Open Source Android. Java driven technology for Mobile clients.
Handhelds have been selected based on the impact of industrial environments running Android OS. The Handheld has a big screen and is therefore easy to address and operate for choosing the right communication channels. It is enabled with a ruggedized headset. Auto provisioning makes it possible to enroll new devices and to update the handhelds without touching the handheld; making it easy to maintain the handheld from a centralized location. The handheld is optionally automatically cleaned when disconnected to the system. SIM card, data storage is disabled on the device for security reasons. WIFI connection is established based on WPA3, Radius and device fingerprinting enabling only connectivity to the system from permitted devices.
Delivery of Warnings, Alerts, Tasks and operational back-end connectivity support. Through a resilient network. What's-up incorporates Service Level Agreements on messages, events and tasks. Extensive support for tailor made self-developed interfacing through specific Agents to ensure realization of your specific needs
What's-up. The centralized messaging system enables the users to chat, voice, automatically message and register tasks; so communication flow is better handled with less people and less costs of ownership of a normal operating vessel. What's-up scalability and open interconnectivity makes it possible to interact with Platform Management Systems (PMS), Combat Management Systems (CMS), Business Information systems (BIS) and other proprietary systems based on XML and/or secure connections. What's-up logs every operation on the systems and location based services (locating the users in the vessel). These services are supported through the What's-up interface. 
Enabled by roaming profile on mobile devices. Easy to implement and maintain. Secured self-destructing data technology when a device is lost.
Based on the usage in the defence industry, high attention has been given to the security in the air and devices used. Voice is encrypted over the air, secure connections based on fingerprinting and radius have been implemented, MAC spoofing, DoS (Denial of Services) are detected and managed, usage is recorded and usage profiles and interaction based bandwidth are implemented to ensure proper security and proper normal usage. Peer-to-peer file transfers, Bluetooth and other "open" connectivity is blocked for usage. Clean sweep of handheld devices which are not connected, offline device management, MAC address, Whitelist and theft control are implemented in the security layer of the system. Enabling the highest security measurements possible for the industry.