Today the insights magazine came online. With an interview about the WCMS system that Tjeerd did some weeks ago with Kevin Stouten. And of course a lot of other recognized Netherlands Defence partners. See: Insights
Koninklijke Marine [Royal Netherlands Navy] very enthusiastic
The IP Company leads the way with an innovative system
The new Combat Support Ship (CSS) Zr.Ms. Den Helder, which the Netherlands Navy will be operating in the coming years, will hopefully be equipped with The IP Company's Wireless Communication and Messaging System (WCMS). The Netherlands Navy uses the communication system on board the Zr. Ms. Karel Doorman and four Holland class patrol ships, and they had good experiences with it.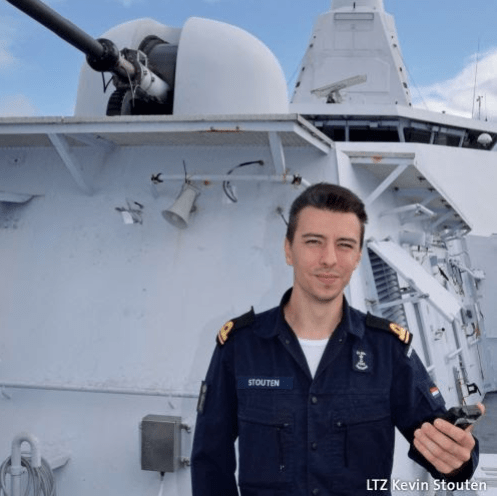 "The advantage is simple: monitoring incoming fault and maintenance reports is no longer a main task, but a secondary task. As a result, we can work more effectively and free up one or two people on board for tasks and work that are even more important," says Kevin Stouten, an officer on Zr.Ms.Holland who is responsible for the safety of the systems on board.
The IP Company's innovative communication system was built into the construction of that ship. After seven years, the experiences are very positive, says Stouten. "In the past, all reports arrived in a control room that was constantly staffed by one or two people. They forwarded reports to crew members manually. Thanks to WCMS, this is no longer necessary. Nowadays, one person is responsible on a daily basis: this crew member logs into the system and receives notifications on a specially-secured smartphone or tablet. In the meantime, he or she is available for other activities. In short, crew members can be deployed much more flexibly."
Greater safety
In addition to saving on personnel costs, WCMS contributes to greater safety on board. Sensors guarantee that dangerous situations are known at lightning speed. Moreover, the Technical Service has constant insight into maintenance reports so the chance of machines and equipment failing is extremely low. The crew also uses WCMS as a voice communication system. "For example, this is very handy if you work with machines that produce a lot of noise. You can then set up a group chat on the earphones of a headset."
In the seven years that the Holland class has been working with WCMS, there have been no significant problems, says Stouten. "It is crucial that the Wi-Fi coverage on board is good; and despite all the steel, it is 100 percent."
Stouten expects that automation on board naval vessels will continue to increase. The IP Company is prepared for this. WCMS is designed in such a way that it is easy to link to existing and new systems.