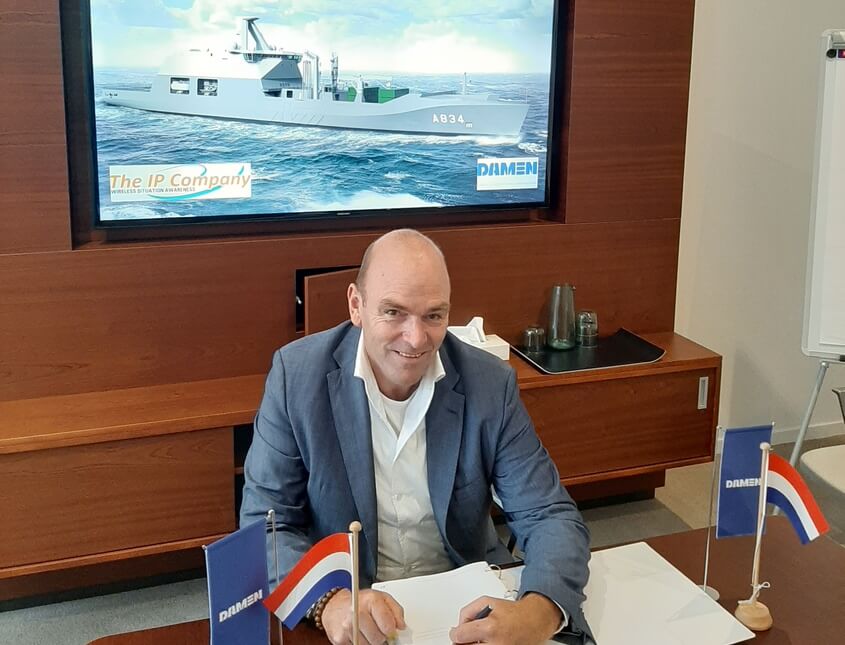 Last Wednesday (September 16, 2020) was the day. The IP Company (IPCO) and Damen Shipyards have signed the contract for the supply of IPCO's Wireless Communication and Messaging System on board the Royal Netherlands Navy's new Combat Support Ship (Den Helder).
With the contract, the RNLN will receive a system based on proven technology and standardized to provide commonality across the Dutch naval fleet. The IP Company has delivered the WCMS onboard the RNLN's Ocean-Going Patrol Vessels of the Holland Class and the Joint Support Ship HNLMS Karel Doorman. This means that the complete CSS system has the same look and feel as the systems present on the other vessels. It also guarantees that new developments on the Holland Class and HNLMS Karel Doorman will be implemented on the CSS as well. This commonality offers not only crew familiarity, but also optimizes training, maintenance and many other processes. 
The IP Company is at the forefront of technology and offers innovative solutions for a truly state-of-the-art secure wireless communications system. The unique feature of our systems are that they convey both voice and data, enabling communication between crew members, both in the administrative and operational domains. 
The system is an integrated one, which connects regular desk phones as well as secure wireless handheld devices, all further enhanced with specific functions for naval use, ensuring that information ends up directly at the right people. These people can then be mobilized immediately, increasing efficiency and improving on board safety. Although DSNS has collaborated with The IP Company on previous vessels built for the Royal Netherlands Navy, for which the Defence Materiel Organisation acted as intermediary, the two companies will now work together directly to provide the CSS with a wireless communication suite with proven high reliability. Following the signing of the contract, The IP Company will commence engineering. Equipment supply to the CSS is scheduled to begin in the first half of 2022.