On July 2nd The IP company participated in the Hellenic – Netherlands Industry day in Athens. The industry day was the first event under the umbrella of the Partners in Business Program aimed at the increased collaboration between The Netherlands and Greece.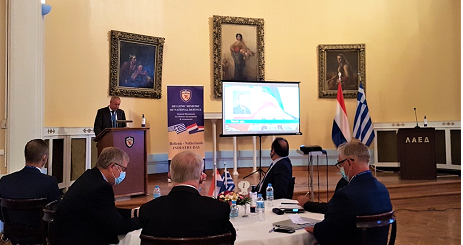 Jan Christian Dicke explains the role the Netherlands Ministry of Economic affairs
During the morning various presentations were given by the NIDV, their Greek counterparts, the Ministry of Economic affairs and the Greek Defence Procurement Organisation. Also https://www.damen.com/ did give an excellent presentation on their ambitions to involve Greek partners in their offer for the new Greek Frigates. In the Afternoon there were short B2B speeddating sessions. The Ip Company spoke withe several companies and with 5 of them it was decided that a follow up meeting during the DEFEA Exhibition would be benificial.